The white marble is a timeless material used in homes for centuries. Give it a contemporary spin and achieve a seamless, flawless solid surface counter top for your ideal interior space, while still retaining its classic grace.
This beautiful display counter found in Gnomon Watches' Millenia Walk outlet uses Gloria Solid Surface in Natural Cirrus. Non-porous and homogeneous, Gloria is also known for its low maintenance properties, making it a popular choice for commercial and F&B interior.
Inspired by natural marble stone, the lovely organic swirls of the Natural Cirrus classic grain adds a touch of stylish refinement to any interiors. Durable and safe to use, Gloria can materialised many interior surfaces in your favourite colour with its dynamic flexibility and not just restricted to cubical designs. The choices are aplenty.
Marble looks exquisite within ornate interiors, diffusing the flecks of lights around the interior. Whether it is an all-white minimal space or against wood accents, the neutral colour palette of white marble makes it a perfect accompaniment to any interior themes. Beautiful yet functional, Natural Cirrus' clean, bright look as well as its classic style never fails to add an element of dressiness to commercial space.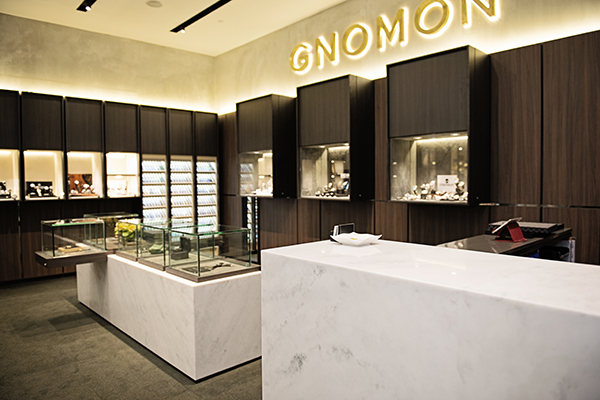 From Left to Right:
Large display counters using Gloria Solid Surface 'Natural Marble MV-100′
Watch display drawers using Staron Sanded Chestnut SC 457 
Design & Construct by Archilibrium Studio.